Follow ride's progress here

View Larger Map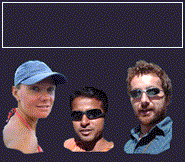 BACKGROUND

In the summer of 2006, Toronto was the host of the biennial International AIDS Conference and one of many organizations that attended the conference was B'Care and its director Surya Makarla. We had a pleasure to host Mr. Makarla and witness his dedication to ongoing fight against AIDS and especially to helping those who are the main victims of the epidemic - children. Mr. Makarla's had a great influence on us and we wanted to become a part in this ongoing fight against AIDS. We decided to use our passion for cycling and connect it with the war against the disease. The idea to connect the 2006 Toronto and 2008 Mexico City conferences was born.

WHY?

The purpose of the ride is to create a connection between the two conferences, but it's not all. Our main goal is to spread the awareness of AIDS among people living in communities where AIDS is still a taboo. Unfortunately, there are still many such communities especially in the rural areas of United Sates. This is why we would like to visit as many communities as possible located away from the ocean including the Native reservations. We are planning to spread the message through simple conversations, mural paintings and public meetings involving as many local people as possible.

The distance is approximately 3248 km and the planned arrival in Mexico City will be about 6 months after leaving Toronto.

The organizing members of this event are: B'Care Canada Foundation, Bike Riders Foundation and Ja In Us Arts, Canada.

For more information about the participants, please, visit: Bike Riders Foundation website or the B'Care Canada website.

If you're interested in joining the project, please register at:

aidsride2008@gmail.com

Any support will be greatly appreciated

And here's the route we have decided upon, but it will likely change when we dive into the preparations of the ride.